Kind of Crunchy Mama wrote today about old jewelry and what evil lurks in jewelry boxes, and had the awesome idea of posting photos of some of the goodies. I bet nobody would guess from looking at me, but I have always had a plethora of jewelry and boxes to contain same. In fact, my entire family takes great pride in their jewelry collections, some more extensive than others. It even seems to be genetic as my daughter has shown a predisposition to slurring 'goooolllllllllddddd' with the teeniest spot of drool escaping from her rosebud lips in exactly the same manner as some of my older relatives. Just kidding, mom.
I lost a huge amount of jewelry in a house robbery back in the early 90's so we're a little slim on the early photos. All of the nice stuff was taken and, naturally, never recovered. This includes the little diamond chip ring I got for quitting biting my nails, more gold pendants than I care to think about, and the highly cherished signet ring of my mother's that she gave me–her monogram being PMS, it gave me huge pleasure to walk around with a PMS ring. I was doubly devastated as it had been a gift from my father, and I was rather accustomed to running my finger over the inscription engraved on the inside, John 2/14/72. I may have the year wrong…it's been gone since 1994 or so.
Anywho, follows is a sampling of my jewelry from the 70's through 90's. I'll get to the rest later–different jewelry box 🙂
First up:
from left: my baby bracelet, my Mickey Mouse watch, pendant of Prime Minister of Thailand c. 1982? and my mother's wedding ring from my father. The pendant was a gift to my mother from one of the busboys at the restaurant where she worked and I have no idea how I ended up with it.
And then we have:
Ah, high school. from top left: a bracelet I bought at a sort of flea market at the Cheapo Mall. I had a thing for rocks. Actually, I still do. Series of buttons worn on my letter jacket (Band. I played a flag.) There were many others but I have no idea what happened to them. Turtle from a collection of my aunt Laurie's. She died when I was 15, and my cousin Brian separated out all of her things from her jewelry box to be divided among the nieces and nephews. I never met Aunt Laurie because she was my father's sister and I have had next to no contact with his family. I met Brian for the first time in 2000, and almost thanked him for putting aside things for me but it just didn't seem right to do so. Still, it always meant so much to me to have something to look at and know that she had been. My class ring, a rock encircled by 2 dolphins, my graduation pendant (in silver because I no longer wore gold) and a pair of earrings I made in my brief 'beading' phase. The godawful rhinestone thing? Earring from senior prom. I can't believe I still have it. At left bottom is a necklace I bought from a street vendor outside of MoMA in 1991. I came up with my then-stepfather and was let loose on NYC with cab fare to get me to the Village. I chose to take a walk and ran into MoMA mostly by accident. Before I went in, I bought this necklace. That trip to the museum was one of the best things I've ever done for myself, especially as a 17 year old afraid of everything. If I recall correctly, I listened to The Judybats on my walkman as I took that walk. It took me a lot of years before I worked up the balls to go to a museum by myself again.
Which brings us to…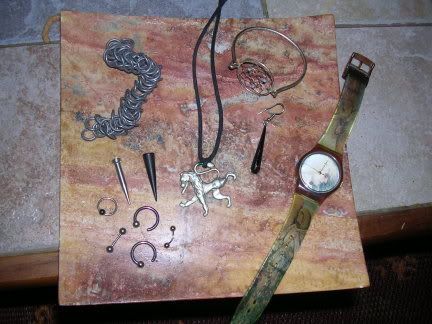 The Albany years. I can't believe it, but I don't think I got any new jewelry between high school and when I moved to Albany. Eh, from top left: My first McNumeral roommate made me this chain mail thingie. I don't remember really wearing it very much as doing so involved some sort of safety pinning with one hand whilst holding it on the wrist with the other and I could only get it done once every 20 tries. Lion pendant, a birthday present, purchased from a weapons show in Saratoga. It looks like it was once a button of some sort, but I never figured out from whence it originated. I've had a remarkable number of people comment on it when I've worn it (which I did daily for a number of years.) I wouldn't say it has bad energy or anything, but sometimes pieces of jewelry just feel like it's time to take them off. Next, dream catcher bracelet, also a gift. This one was from my ex-stepfather's stepdaughter from a marriage prior to the one to my mom. Confused? Don't worry, I am too and I was involved in the whole deal. I think I wore it once, and will most likely pass it on to Lucy before too long. I never really knew if I liked it or not, but felt obligated to hang onto it even after I lost the little dangly feather and even though I wasn't ever really into Native American stuff. Black dangly earring, purchased at stoop sale from same sort-of-step-sister person. I wore these shitting things to death. Lost the other. My Daniel watch! I never wore this but take it out every month or so to admire. It's so beautiful. And then there's the body jewelry: 2 teensy ones from my ill-fated eyebrow piercing that left a scar, the rest from stretching my ears. I wore the silver nails for a year or so until I decided I was done with stretching and took them out. I tried to put them back in the next morning and they wouldn't go. The black spike…I never got to it. It was my goal at one point, but really, I don't know why. I never ogled 0 gauges or eyelets or anything. I think maybe I needed a hobby. In between the horseshoe bars and the nails, I had this huge-ass captive bead ring, like 1″ diameter, that stretched my holes quite nicely (and made me look rather like a pirate.) I don't know where it ended up. I only ever got up to a 6 gauge too.
I'll have to dig through my other jewelry box tomorrow or the next day but all of that stuff may be too recent to be good and juicy to check out.